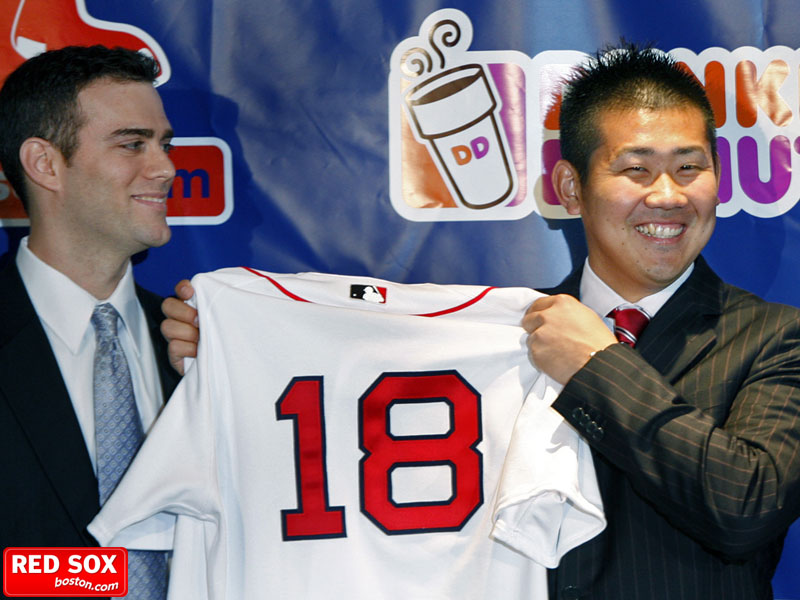 Allright, just in time for the regular season's beginning, let's round out our preview series with the Boston Red Sox , perhaps the most changed team in the AL East from last season. Boston did some nice reloading but also retained its offensive core after a disappointing season that saw them drop to third place (behind our beloved Jays. Will they unseat the Yankees, who have won the AL East every season since 1998?
Moves :
The Red Sox let RF Trot Nixon go and replaced him with another good fielding, lefthanded, injury-prone, but much more expensive, RF in J.D. Drew . Boston also added SS Julio Lugo after Seabass departed for a 3-year deal in Cincinnati and, with the departure of Mark Loretta, called on Dustin Pedroia to take the starting 2B spot with the club. On the pitching side, Boston made a huge splash in the market with its $50 million dollar posting fee bid on Daisuke Matsuzaka (for some reason I have to look up how to spell Cincinnati, but not Dice-K). They inexplicably thought that Joel Pineiro was worth $4 million ($2 million for each syllable in his first name), and also added Brendon Donnelly and JC Romero to a bullpen that was a big perceived problem for the team last season, as well as somewhat less-heralded signing Hideki Okajima .
Projected Typical Lineup : (I'm not giving a lot of time to batting order, and, as always, BA/OBP/SLG stats in parentheses are 2007 ZIPS projections)
Vs. LHP
SS  -  Julio Lugo (.283/.348/.393)
CF  -  Coco Crisp (.299/.352/.456)
DH  -  David Ortiz (.288/.396/.616)
LF  -  Manny Ramirez (.299/.408/.600)
RF  -  J.D. Drew (.266/.385/.461)
1B  -  Kevin Youkilis (.276/.384/.428)
3B   -  Mike Lowell (.277/.342/.465)
C  -  Jason Varitek (.266/.357/.456)
2B  -  Dustin Pedroia (.274/.347/.394)
Vs. RHP
CF  -  C. Crisp
RF  -  J.D. Drew
DH  -  D. Ortiz
RF  -  M. Ramirez
1B  -  K. Youkilis
C  -   J. Varitek
3B  -  M. Lowell
SS   -  J. Lugo
2B  -  D. Pedroia
Bench
:
4th Outfielder - Wily Mo Pena (.276/.331/.483)
5th OF/3B/1B - Eric Hinske (.256/.332/.406)
Backup C - Doug Mirabelli (.214/.304/.377)
Utility IF - Alex Cora (.250/.333/.350)
I like this lineup a lot, plenty of OBP, decent power, good defense, and a good bench. Lugo struggled last year after going to LA, but he seems like a good bet for Fenway and provides generally average-above average offense and defense. I would lead him off against lefties, although Boston may not do so. Coco Crisp really had a tough year last year, but, as you can see, ZIPS thinks it is a blip on his way to being a solid player, and I agree. I think injuries are responsible for his underperformance, and I think he will be a pleasant surprise for Boston this season. It is very important that he play better in the field as well, as Boston has lots of guys who can fill the top two spots in the order (Lugo, Crisp, Drew, Youkilis, Pedroia possibly) but only Crisp is capable of anchoring the outfield and protecting Manny Ramirez , who provides amazing offense and unspeakable defense.
There was a really interesting article in the Hardball Times about how "Manny being Manny" in LF was actually really hurting the team, as his defense was so horrible that it negated a lot of the good he does with the bat and that he was getting paid as a MVP type player when he is in actuality only several wins above a replacement level LF (still very good but not $17 million/year good). Like I said, it was an interesting article, but I don't really buy it, I think Manny is a force and I have seen him hustle around the OF in close games. David Ortiz will surely continue to drive other teams crazy, while JD Drew and Kevin Youkilis bring only average (at most) power for their positions, but help the team substantially with on-base skills and solid defense.
Pedroia has a lot to prove, but Cora and the 9 spot will provide some cover. while Lowell will provide solid D but hopes to bat as he did in the first half of 2006 (.875 OPS), not the second half (.739 OPS). Varitek will hope for a bounceback from a year where he looked totally lost.
I also like the bench here - I would use Hinske a lot at 3rd against righties, as we've seen that he can be quite successful in a platoon role, and Wily Mo is already a very good 4th OF, and could be even more if he gains a little discipline.
Projected Rotation
(Stats are 2007 ZIPS projections, except as indicated)
Daisuke Matsuzaka - 187.3 IP, 4.01 ERA, 1.28 WHIP, 8.0 K/9 (Pecota/BP projection) Curt Schilling - 190 IP, 3.98 ERA, 163/29 K/BB
Josh Beckett - 182 IP, 4.55 ERA, 202 H, 143/61 K/BB
Tim Wakefield - 178 IP, 5.16 ERA, 114/63 K/BB
Julian Tavarez - 81 IP, 4.67 ERA, 49/30 K/BB
Jon Lester - 138 IP, 4.96 ERA, 108/64 K/BB
This group looked a lot better with Papelbon in the rotation, didn't it? Matsuzaka looks like an ace, and will be great cover for Schilling who was great last season but injured/ineffective in 2005. I think Dice will be even better than projected. Beckett disappointed last year, and some of that seems to be because he is what my grandmother calls "testa dura", but some was surely just poor luck with home runs, as his peripherals indicate that he should be better this season. That projection isn't great for a number 3 starter (Ted Lilly was quite a bit better than that last season), but it's not terrible.
Wakefield should continue to be serviceable if he can keep the walks and HRs down, and Lester could contribute effectively as a 6th starter. I think they will be using him sooner rather than later, as I can't see the Julian Tavarez experiment working for any time at all, but the Sox were encouraged by his turns as a starter late last season. All in all, I think moving Papelbon back to the bullpen was a mistake, especially considering that he was originally moved to the rotation because of concerns about his arm's health if he pitched every day.
Also, I just can't figure out why a smart team like Boston didn't think Gagne was worth $5 million, but thought Pineiro was worth $4 million. (not that the Gagne move has worked out great for Texas so far). All in all, this rotation is good enough, but only insofar as Schilling is able to continue to pitch as effectively as he has. Matt Clement is not expected back until late in the season and doesn't look like he'll be a factor this season.
Bullpen
Boston's bullpen has it all: grizzled vets, young "stuff" arms, converted retread starters, LOOGY power, and an asian import
Johnathan Papelbon (closer) (3.66 ERA, 8.44 K/9, 2.15 BB/9, 3.93 K/BB)
Mike Timlin (4.31 ERA, 5.78 K/9, 3.90 BB/9, 2.41 K/BB)
Brendan Donnelly (3.97, 7.63 K/9, 3.36 BB/9, 2.27 K/BB)
J.C. Romero (4.06 ERA, 7.84 K/9, 4.79 BB/9, 1.64 K/BB)
Kyle Snyder (4.86 ERA, 5.39 K/9, 2.10 BB/9, 2.56 K/BB)
Joel Pineiro (5.10 ERA, 5.32 K/9, 3.07 BB/9, 1.73 K/BB)
Hideki Okajima (4.41 ERA, 8.49 K/9, 3.40 BB/9, 2.50 K/BB) (projection from Armchair GM via Brock2)
Nothing special here - the most Boston can hope for is adequacy. You've got Romero and Okajima from the left side, Donnelly probably starting off as the 8th inning guy, Snyder and Pineiro pitching lower-leverage innings, and a guy who had a historically great season as closer last year, until arm issues forced him to shut down. Timlin will start the year on the DL and probably move to the 7th/8th innings when he returns.
Donnelly, Romero, and Okajima should be competent enough, and Papelbon is steady in the 9th, but Timlin is really getting long in the tooth and Pineiro and Snyder don't look like much. St. John's alum Craig Hansen and Manny Delcarmen are two guys who should both feature at some point and could easily move into very prominent roles, but they have some work to do in the minors first.
All in All
Boston should definitely compete for the AL East crown, but I don't quite understand those who think they will run away with the division. Neither their lineup nor the rotation nor the bullpen is really dominant, although the rotation may be tops in the East, the lineup and bullpen are surely not. If they make the playoffs, Dice-K and Schilling will combine to make them tough to beat.
Cheers, everybody! Good luck to all in the division except the Yankees, Sox, D-Rays, and O's.