Yesterday's victory, narrow as it was, came at a bit of a steep price.  Scott Downs slipped on the wet grass while backing up third base, and it was not a good looking injury.  It looked bad to me, and when I heard that Downs was hobbling around on crutches I figured he was likely out for the season.  My first thought when I saw the play was that Scott had broken his ankle.  However, his x-rays were negative and he's been listed as being day-to-day with an ankle sprain.  We shall see - it's really too early to tell as Downs' ankle is likely too swollen to know anything concusively, but according to Bastian, a trip to the DL is likely.  If Downs is DLed, Parrish will likely be called up to take Downs' spot and Carlson will get some more high-leverage work.  If Accardo is promoted to the majors, he is good at getting lefties out as well.  Let's hope Downs is okay.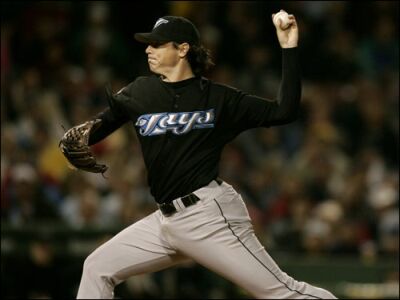 On a broader level, I wish we would stop using him and League when the games are not close and for 3 games in a row (though when League came in yesterday it was a close game - I know Cito is trying to make a run but if he really is going to run the team next season he is risking losing some of his better players next season by overworking them this season (See Janssen, Tek). And neither League nor Downs was sharp last night, so it's not like they were really helping the team. Frasor was great yesterday and isn't pitching bad this season, and Carlson has been great, so it's not like the B-team is no good or something.
Litsch will pitch the getaway game today as the Jays go for the sweep, and Armando Galaraga pitches for Detroit.  The game starts at 1 ET, so stop by if you've got time.  I have to go interview some bright young law students for jobs this morning, but will be around for most of the game.
In the minors, Brian Wolfe had a rough start yielding 2 HRs (5 runs) over 4 innings.  In Brian's favor, he did strike out 4 and walk only 1, and his overall performance is still quite good.  He has been fantastic since being converted to a starter so this one roughing up isn't a big deal.  In his rehab, Jeremy Accardo pitched a scoreless inning for Syracuse.  He needed only 6 pitches.  Travis Snider was 2-4 with an RBI.