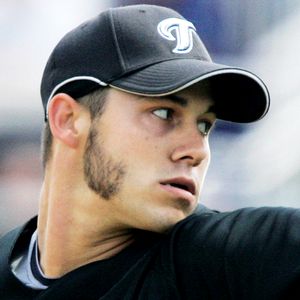 This post dovetails on some of the conversations we've been having in comments of other posts and gamethreads, but I think it deserves its own thread.  J.P. has suggested that the Jays are not likely to acquire a starting pitcher this offseason.  While there's no particular reason to take him at his word, it's still worth looking at whether the Jays in fact need to bring in a pitcher.  I think a close look shows that the answer is maybe, which in baseball when you're trying to compete means yes. 
Assuming A.J. Burnett is gone, the Jays rotation next season will consist of Roy Halladay and, as of now, some combination of: Jesse Litsch, Dustin McGowan, Jesse Litsch, Casey Janssen, David Purcey, Brett Cecil, Ricky Romero, Brian Wolfe, Scott Downs, Scott Richmond, and Davis Romero (maybe John Parrish). 
McGowan and Janssen are coming of labrum repair surgery - Dustin won't be back for opening day, and whether the two will be effective at all once they return is certainly not guaranteed. They are huge question marks as labrum surgery is a rough business, and Janssen has never really proven himself as as starter besides.
Litsch had a great little season this year, bringing his K/9 up by quite a bit (4.78 as opposed to 2007's 4.05) and his BB/9 down even more (2.06 to last season's 2.92) which has lead to a much much better FIP (ERA independent of fielding, 4.39 after last season's 5.14), suggesting long-term success is very much a possibilty.  With the Jays continuing to field a stellar defense, Litsch can be pencilled in and is all but assured of a rotation spot.  He's also durable enough that 200 innings are very much a possibility (he had 185 last season and is at 182 so far this year).  The question is whether he's any more than a 4th or 5th starter.  His 116 ERA+ this season (117 last season) suggests he can be, but a pitcher who Ks less than 5 per 9 innings will constantly have to prove himself.  
Brett Cecil had a tremendous season in the minors, but he made it up to AAA very quickly and the Jays would be asking a lot to have him in the rotation as a regular to start next season.  Certainly he can contribute in 09, but I don't think it will be to start the season.  Cecil also still walks too many and hasn't built up his arm strength to the point that he is ready to start in the majors every 5th day and throw 100 pitches. I don' think he can be counted on. 
David Purcey was fantastic in AAA but has been inconsistent in the majors this season.  He'll give you an amazing start and then come out with a stinker.  Though I have noticed an improvement in his control, it can still fall apart at any moment.  His overall numbers are nothing to shout about and quite honestly, I think the best course of action for him for next season would be to start in AAA, work on his control, and pitch his way back into the rotation (circa McGowan of 2 seasons ago).  But the Jays sudden thinness at the position means he is likely to begin 2009 in the rotation.  The question is whether, with his rookie year behind him, he can pitch with consistency, throw strikes, and be effective from start to start. 
Ricky and Davis Romero returned from serious injuries (Ricky late last season, though he clearly hadn't regained his arm yet until this season, Davis this season) and both lefties pitched well enough to put them back on the Jays top prospect lists.  But Davis Romero has always profiled to me more of a bullpen guy in the majors, while Ricky has only had one half of a good season at AAA, and after a bad first half of the season at AA.  Ricky is still young and so retains a reasonable chance of major league success, but it's by no means a sure thing to be next season.  I see Davis continuing in AAA and being a callup starter or joining the bullpen, while Ricky could make the rotation out of spring training but he's not at all a great bet to have success from the rotation next season.  I think it would be too much, too soon, for him to start anywhere other than AAA. 
Wolfe and Downs have both been bandied about as potential starters.  Downs' arsenal seems well suited enough for a rotation job - he has the sinking fastball and the quality curve and other pitches he hasn't really used since becoming a setup man, but he really hasn't had success in that role.  I definitely recognize the increased benefit in using a pitcher as a starter, even if not as dominant as they would be in a relief role, if you recall my constant heckling 2 seasons ago about using Towers in the rotation when we had Janssen pitching out of the pen.  Not to say he wouldn't be successful, but I just don't see it with Downs, maybe in another division.  As for Wolfe, he throws hard and throws strikes, and seems like a hoss, but I haven't seen enough of his secondary pitches to say.  In addition, I'm worried about his ability to get lefties out.
Even though I'm not sold on Wolfe or Downs, I do like the idea of moving someone from the bullpen into the rotation.  I think it works more than people give it credit for, and the Jays have an embarassment of riches in the bullpen so guys are be going to pitching innings they are too good for.  Whenever you have a quality reliever pitching low-leverage innings, you're not getting your money's worth, so it makes sense to think about moving folks around. 
Finally, Richmond looked good enough for the Jays in his 3 starts.  He attacks the zone, has a decent fastball, and got outs more often than not.  We'll see how he looks this weekend, but I think he might work in the 5th starter role.  He has so little experience, though, that it's tough to really count on him, though he could win a rotation spot out of spring training. I don't see Parrish as an option. 
If and when McGowan and Janssen (especially McGowan) come back, and back strong, the Jays could be in good shape next season.  A rotation of Halladay-McGowan-Janssen-Litsch-Purcey, that's not bad at all.  But a rotation of Halladay-Litsch-Purcey-Romero-Richmond?  Ouch.  Relying on too many young starting pitchers is a recipe for disaster for a team hoping to compete.  The pen will help, of course, but I think the Jays still need to add someone who's capable of giving the team quality innings, to solidify the rotation, in case all the injuries and young'uns don't work out as well as we hope.  The last thing we need is for the hitting to pick up next season and the pitching to fall apart. 
Today's title from a great great Tegan and Sara song.  Gotta keep up with Rince, who's been getting in on the act.  Using Love You To, that great sitar-heavy Revolver tune, blew my mind.  I was listening to my vinyl copy of Revolver just the other day.