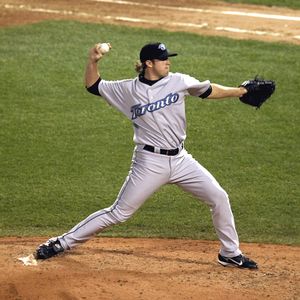 The Jays, coming off their victory yesterday against the Detroit Tigers, host the Braves today in Dunedin in their 4th spring training game.  The Jays' hitters and pitchers had a good day yesterday and look to continue today. 
Doc Halladay pitches for the Jays today, and that's always fun.  Today's game will be on gameday audio as well, and I'm looking forward to listening on a Saturday afternoon while I catch up on some work I didn't get done this week (probably in part to the games) and working on our taxes, an activity I enjoy for some reason. B.J. Ryan is also scheduled to pitch.
Today's Globe and Mail has a nice article on Jeremy Accardo's return to form.  Accardo gave up a few hits yesterday but was working over 90 and also throwing his cutter well.  Evidently, his stuff looks great, so he just has to work on regaining his command and control after so long on the shelf.  He didn't walk anyone yesterday, which is a good start.  The G & M also reports that Clement was strong yesterday, working in the respectable-for-this-time-of-year  86-88 m.p.h. range and, more significantly, throwing his slider with effectiveness and without pain.  That slider has always been Clement's best pitch and has dogged him over the past two seasons so that really is good news.  But he will need to throw it more than six times, which is how many sliders he threw yesterday, to get through a big-league game. 
There was also a nice article on Cito's relationship with young hitter Adam Lind.  Lind clearly is not excited about the prospect of spending significant time as a DH:
"The hardest is that, when you play defence, you can put a bad last at-bat behind you," Lind said. "It's tough to get any routine in spring training. You can't leave the dugout to take swings or ride the exercise bike. They're not available. Anyhow, at my age and experience I really don't feel comfortable leaving the dugout. It's going to take a while to get over that. I mean, I really don't feel I've been around long enough to have the privilege to just come and go like that."
Personally, I don't think Lind needs to DH every day.  I'd like to get Wells the occasional day off of his fielding duties and also use the DH spot to rest other players from time to time.  And we know there will be injuries and also nagging little things that come up - it's more just a mindset Lind has to get in that he may not be playing the field any given day.  Hopefully it'll allow him to concentrate on hitting without overthinking it.  I have to admit, I'm sort of counting on Cito to bring out the best in Lind. 
By the way, with Brett Cecil, Scott Richmond, Brad Mills, and Matt Clement all showing effectiveness, and Ricky Romero not looking terrible either, the Jays' roster picture is getting interesting.  We plan on following all the Jays attempting to make the club and doing a weekly look at whose chances have gone up or down.