Great news everyone! Former Toronto Blue Jays outfielders George Bell and Rob Ducey and radio broadcaster Tom Cheek were inducted into the Canadian Baseball Hall of Fame along with minor league coach and former Montreal Expos Tim Raines. Nat Bailey, for whom the Blue Jays' short season A affiliate Vancover Canadians' home park was named, was also inducted.
La version française: Félicitations! George Bell, Rob Ducey, Tom Cheek, Tim Raines, et Nat Bailey ont élu au Temple de la renommée du baseball canadien!
Here is a release by Scott Crawford Canadian Baseball Hall of Fame I received from Larry Robertson:
St. Marys, Ont. – While George Bell was belting 47 home runs en route to the American League MVP award for the Toronto Blue Jays in 1987, fellow left fielder Tim Raines was scoring a National League-leading 123 runs and serving as the catalyst of the Montreal Expos' offence.
In the mid-to-late '80s, many baseball pundits would've agreed that Canada's major league teams boasted the top two offensive left fielders in the game. So it seems fitting that more than 20 years later, Bell and Raines will be inducted into the Canadian Baseball Hall of Fame together.
Toronto-born outfielder Rob Ducey, who made his big league debut in 1987 and eventually played left field for the Blue Jays and Expos, will also be enshrined, along with Blue Jays broadcasting legend Tom Cheek and Vancouver baseball icon Nat Bailey, who will both be honoured posthumously.
"This year's inductees represent a cross section of individuals who have both left their mark on baseball in Canada and enriched the game for all Canadians," said Allan Simpson, chair of the Hall's Selection Committee. "We will be honouring two of the most celebrated players in the history of the Blue Jays and Expos, the most influential voice in Canadian baseball history, a pioneer in the development of baseball at all levels in British Columbia and a Canadian who had a lengthy big league career and helped Canada become a respected international opponent."
Scott Crawford, the Hall's director of operations, also expressed his enthusiasm for this year's class.
"I'm excited that we have such a diverse group of inductees," he said. "When I was growing up, I remember being inspired by watching George Bell, Tim Raines and Rob Ducey on the field and being captivated by the way Tom Cheek called a baseball game on the radio. Nat Bailey's contributions to baseball came before I was born, but I've learned a lot about the tremendously positive impact he has had on baseball in British Columbia."
The induction ceremony will be part of a festival of events that will also include a celebrity slo-pitch game, a golf tournament and a Toronto Blue Jays baseball clinic for kids.
George Bell
Born in 1959 in San Pedro De Macoris, Dominican Republic, Bell remains the only Blue Jay to win the American League MVP Award. His monster 1987 campaign – that saw him belt a then-club record 47 homers and lead the league in RBIs (134), total bases (369) and extra base hits (83) – is one of the best in franchise history.
Plucked from the Philadelphia Phillies in the 1980 Rule 5 draft, the power-hitting outfielder was an offensive force in Toronto for parts of nine seasons. A three-time all-star and three-time Silver Slugger Award winner, Bell socked over 20 homers in six seasons and recorded more than 85 RBIs seven times with the Jays. He also smashed a major league record three home runs on Opening Day against the Kansas City Royals in 1988. The former slugger ranks in the top five in most of the club's all-time offensive categories, including third in RBIs (740), total bases (2,201) and extra-base hits (471) and fourth in home runs (202). For his efforts, he was named the club's MVP four times and was an inaugural member of the Blue Jays' Level of Excellence in 1996.
His tenure with the Jays was followed by three seasons in Chicago with the Cubs (1991) and White Sox (1992, 1993). He retired after the 1993 campaign with 265 career homers and 1,002 RBIs.
"Thank you for honouring my life and career with this decision by the Selection Committee," said Bell. "I'm very excited and proud to be part of the Canadian Baseball Hall of Fame."
Tim Raines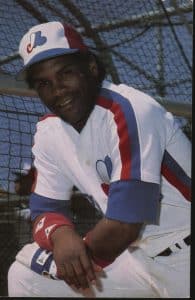 Born in 1959 in Sanford, Fla., Raines blossomed into one of the best leadoff hitters in major league history. A fifth-round pick of the Montreal Expos in 1977, Raines excelled for parts of 13 seasons in Canada. From 1981 to 1987, the fleet-footed outfielder was selected to seven consecutive all-star teams and was named the MVP of the 1987 Midsummer Classic. During that same period, he also won a National League batting title in 1986 and topped the Senior Circuit in runs twice and in stolen bases four times.
In 1,452 games with the Expos, Raines set franchise records in runs (947), stolen bases (635), triples (82), walks (793), and singles (1,163). He also ranks second in Expos history in batting average (.301) and hits (1,622).
In December 1990, Raines was dealt to the Chicago White Sox, where he toiled for five seasons, before being traded to the New York Yankees, where he earned two World Series rings (1996, 1998). In 2001, he returned to the Expos and hit .308 in 47 contests. In all, in a 23-year big league career – that also included stints with the Oakland A's, Baltimore Orioles and Florida Marlins – Raines collected 2,605 hits and 808 stolen bases (fifth all-time). Following his playing career, he coached and managed in the Expos organization and his No. 30 was retired by the club in 2004. Raines has also served as a first base coach with the White Sox and recently accepted a position to be a minor league baserunning and outfield instructor with the Blue Jays.
"This is wonderful news," said Raines, upon being informed of his induction. "I'll always cherish my time with the Montreal Expos and I look forward to seeing many of the team's fans again at the induction ceremony in June."
Rob Ducey
Born in Toronto in 1965, Ducey was raised in Cambridge, Ont. The left-handed hitting outfielder was signed as a free agent by the Blue Jays in 1984. After being named MVP of the Rookie Ball Medicine Hat Blue Jays that year, he rose through the organization's ranks to make his big league debut on May 1, 1987. His first major league homer came on September 14, 1987 in a contest in which the Jays clubbed a big league record 10 round-trippers to defeat the Orioles 18-3.
The talented Canadian suited up for parts of five more seasons with the Jays, prior to being dealt to the Angels in 1992. Tenures with the Texas Rangers, Seattle Mariners and Philadelphia Phillies would follow, as well as a two-year stint in the Japanese Pacific League with the Nippon Ham Fighters in 1995 and 1996 that saw him belt 51 home runs. He returned to Toronto for five games in 2000 and saw his final big league action with the Montreal Expos in 2001, making him the second Canadian (along with Denis Boucher) to start his major league career with the Jays and end it with the Expos. Ducey is also one of only four Canadians (Boucher, Shawn Hill and Matt Stairs are the others) to suit up for both the Jays and Expos. In all, Ducey played 19 seasons in professional baseball, making him one of just 12 Canadians to do so.
Following his professional career, Ducey competed for Canada at the 2004 Olympics and served as a coach at the 2006 World Baseball Classic and 2008 Olympics. He has also been a scout for the Blue Jays and is currently working in player development for a Mexican League team.
"I was very excited and honoured to hear about my induction. I'm also very thankful and appreciative for being thought of in this light," said Ducey. "I want to be – and have been – creative in my approach to this game. Along my travels, I have met many good people and developed tremendous friendships. I'm a baseball lifer and I hope to continue to work in the game in one capacity or another."
Tom Cheek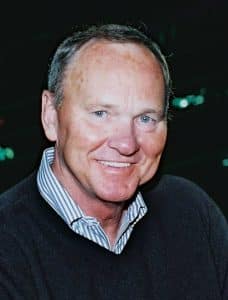 Cheek broadcast 4,306 consecutive Toronto Blue Jays games from April 7, 1977 to June 2, 2004. He was also in the booth for all 41 of the franchise's post-season contests, including Game 6 of the 1993 World Series, which inspired his most famous call. After Jays slugger Joe Carter clubbed his World Series-winning homer in the bottom of the ninth, Cheek quipped, "Touch'em all, Joe. You'll never hit a bigger home run in your life."
Prior to landing with the Jays, Cheek, who was born in Pensacola, Fla. in 1939, served as a backup broadcaster for the Montreal Expos from 1974 to 1976. His rich, soothing baritone earned him a reputation as one of the best play-by-play men in the business and in 2001, he was rewarded with the Canadian Baseball Hall of Fame's Jack Graney Award for his significant contributions to baseball in Canada. In June 2004, Cheek missed his first Blue Jays' game in order to attend his father's funeral. Shortly after his return, he was diagnosed with a brain tumor.
In August 2004, Cheek's name was added to the Blue Jays' Level of Excellence, and the following year, the Canadian Sports Hall of Fame created the Tom Cheek Media Leadership Award in his honour. He was the inaugural recipient of the award that has since been presented annually. For more than a year, Cheek waged a valiant battle against brain cancer, before he passed away on October 9, 2005. This July, Cheek will be honoured with the National Baseball Hall of Fame's prestigious Ford C. Frick Award, an accolade handed out annually to a broadcaster who has made major contributions to baseball.
"My first thought was, 'Wow, am I hearing Scott (Crawford, Hall director of operations) right?" recounted Cheek's wife, Shirley, when asked about how she felt when she was informed of her husband's upcoming induction. "Tom would be so proud to know that he is being honored by the Canadian Baseball Hall of Fame and I'll do my best to represent him."
Nat Bailey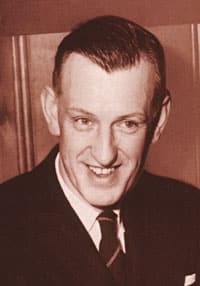 Born in St. Paul, Minn., in 1902, Bailey moved to Vancouver as a child. He was hired by Canadian Baseball Hall of Famer Robert Brown to work at Vancouver's AthleticPark, where he became a jack of all trades, doing everything from selling hot dogs and peanuts to announcing the players. In the process, he became a popular figure at the park and earned himself the nickname "Caruso Nat."
Bailey evolved into a successful restaurateur in B.C. In 1928, he opened Canada's first drive-in restaurant called White Spot in Vancouver. The restaurant prospered and soon he opened a chain of them across the province. When his restaurants thrived, he used a significant portion of his profits to sponsor little league teams.
In the mid-'50s, Bailey purchased the Triple-A Vancouver Mounties and his commitment to the club over the next decade helped raise interest in professional baseball to new heights in the city. After Bailey passed away in 1978, Capilano Stadium, where the Mounties played, was renamed Nat Bailey Stadium in his honour. For the past two seasons, the Vancouver Canadians, the Toronto Blue Jays' Class-A Short-Season club, have played in this stadium and have won the Northwest League championship in each campaign. For his contributions to sports in B.C., Bailey was inducted into the B.C. Sports Hall of Fame in 2003.
"This is great news," said Mark Bailey Andrews, Bailey's grandson. "My grandfather did a lot for the baseball community and the kids."